Looking for the perfect Christmas gift for friends and family? A book is a wonderful present that can be appreciated time and time again. This year Currach Books is celebrating the holidays early for those looking to get their holiday organised. All of our books are now 20% off! We have a wide selection of books that span various genres from mythology to mental health, to history and fantasy we've got you covered. Below are some of our favourite titles and why they make great gifts!
For the Mythologist
Mythical Irish Places
by Mark Joyce

Following the success of Mythical Irish Beasts (2018) and Mythical Irish Wonders (2020), Mark Joyce returns with Mythical Irish Places, an encyclopaedia of Ireland's most magical and wondrous locations.
From Newgrange to the Hill of Tara, Ireland is a mysterious land steeped in folklore. Learn how the Cliffs of Moher got their name and why Uisneach is called the bellybutton of Ireland. Discover how ancient Ireland was divided and which castle is reputably the most haunted. Explore the myths surrounding the picturesque Giant's Causeway in Antrim and venture to the spot that Cú Chulainn was born.
Join us on a magical journey around the country visiting some of the most mythical places in Ireland. Brimming with beautiful illustrations, this is a book that children and adults will enjoy for years to come.
For the Family
A Robin's Tale
by Noelle Rock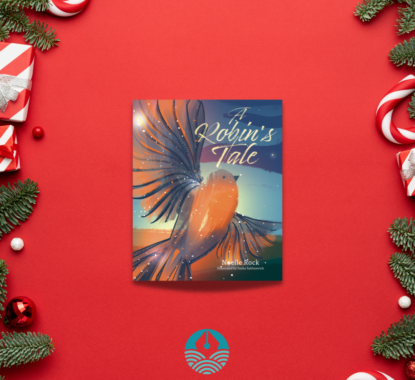 Robins appear when loved ones are near.

This is one Robin's tale as he returns to watch over the people he loves.
A Robin's Tale is a thoughtful children's story addressing death which offers a safe way for adults and children to explore loss and grief.
For the Adventurer
Banshee Rising
by Riley Cain
She sees ghosts. Everywhere. All the time.

It's a pain.
Caitlyn never asked to see floating nuns, dark highwaymen and phantom warriors. She did not ask to have different-coloured eyes or be attracted to haunted 'Magic Man' Danny from school. But her gift is undeniable, forcing Caitlyn to share her life with a host of quirky spirits as she tries to navigate a 'normal' day of bullies, boys and Gran's bad cooking.
And then Professor Sackimum Brody steps into her life and nothing will be the same again. Mortal yet mysterious, the Professor seems to know far more about Caitlyn and her lost parents than he reveals, even as he guides her to understanding the secret of her gift. When at last he offers a glimpse into a deeper realm, one where an ancient evil is stirring, Caitlyn is plunged towards an impossible truth and a threat to her worlds.
To defeat what is rising from Ireland's haunted heart, Caitlyn McCabe must face an adventure that is, literally, life and death.
For the Storyteller
The Enchanted Lake
by Sinéad De Valera
Sinéad de Valera's The Enchanted Lake weaves a world of magic like no other. From witches and mermaids to giants and princesses, this new edition, full of beautiful and colourful illustrations by the artist Alexis Sierra, brings together eight of her classic Irish Fairy Tales. Set in the Erin of old, these timeless tales are brimming with ancient charm, captivating characters and magical locales. The Enchanted Lake will transport the reader to a world of wonder and enchantment that will invite them back again and again.
For The Naturalist
The Bee's Knees
by James Morrissey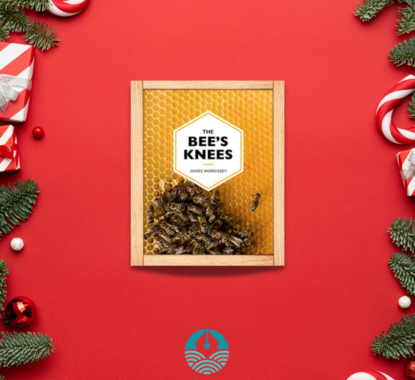 Bees are vital to life on earth. They have been pollinating our crops, plants and fruit trees for thousands of years. Bees play a key role in so much of the food we eat and they give us honey, one of the world's most natural and healthy foods. And yet, they are under severe threat and their numbers are in decline because of human activity.
The Bee's Knees is a fascinating insight into the life of bees and beekeeping in Ireland, including what happens inside the hive, how bees communicate with each other through the 'waggle dance', how honey has been at the centre of a major international food fraud and the dramatic decline in global bee population.
Meet beekeepers from around Ireland who are playing an important role in the preservation of the native Irish honeybee. From the rooftop of one of Dublin's most historic buildings to the rugged Connemara coastline, these beekeepers talk about their experiences. And also, learn what you can do to save one of the most important species in our fragile ecosystem.
For The Outdoorsman
50 Best Irish Walks
by John G. O'Dwyer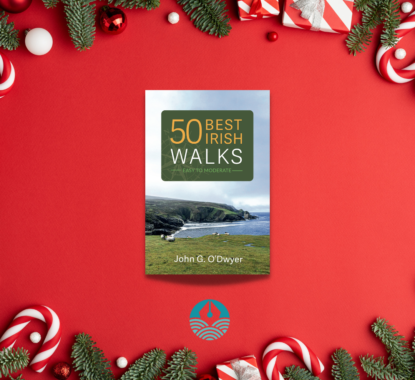 John G. O'Dwyer's Irish walks have become famous through his column in The Irish Times. Now his 50 favourite rambles are gathered here in one pocket-sized volume. A must read for anyone interested in Ireland's hills and mountains, these trails range from easy to moderate walks all around Ireland, taking anywhere from 1.5 to 4.5 hours to complete. Accompanied by detailed maps and beautiful photographs of the stunning Irish landscape, this is an ideal collection for the avid walker.
All of these titles are great for the holidays and are available for purchase here.