Books are beneficial in many ways and reading can be highly valuable for children. The advantages of reading are numerous and nurturing a love of reading for your little ones can help them with their literacy, general knowledge, cognitive skills and even their sleep. Take them on a grand adventure with amazing heroes or on a heart-warming fairy tale that will teach them valuable life lessons and still remain fun. As today is National Reading Day foster a love of reading in your children by introducing them to some of the most engaging children's books around.
For ages 4+
A Robin's Tale by Noelle Rock
€14.99

Robins appear when loved ones are near.
This is one Robin's tale as he returns to watch over the people he loves.
A Robin's Tale is a thoughtful children's story addressing death which offers a safe way for adults and children to explore loss and grief.
For ages 8+
The Enchanted Lake by Sinéad de Valera
€22.99

Sinéad de Valera's The Enchanted Lake weaves a world of magic like no other. From witches and mermaids to giants and princesses, this new edition, full of beautiful and colourful illustrations by the artist Alexis Sierra, brings together eight of her classic Irish Fairy Tales. Set in the Erin of old, these timeless tales are brimming with ancient charm, captivating characters and magical locales.
For ages 10+
Mythical Irish Beasts & Mythical Irish Wonders by Mark Joyce
€22.99 each

In these beautifully designed books, Mark Joyce brings us on a fantastic journey through Irish folklore with his stories of monsters and enchanted creatures, all brought to life through his original illustrations. He uncovers local stories of monsters that have been lost or forgotten and breathes new life into them with his creative artwork, sure to spark the imagination.
For ages 12+
Banshee Rising by Riley Cain
€12.99

She sees ghosts. Everywhere. All the time.
It's a pain.
Caitlyn never asked to see floating nuns, dark highwaymen and phantom warriors. She did not ask to have different-coloured eyes or be attracted to haunted 'Magic Man' Danny from school. But her gift is undeniable, forcing Caitlyn to share her life with a host of quirky spirits as she tries to navigate a 'normal' day of bullies, boys and Gran's bad cooking.
To defeat what is rising from Ireland's haunted heart, Caitlyn McCabe must face an adventure that is, literally, life and death.
For adults
Once Upon A Reader by Lorraine Levis
€19.99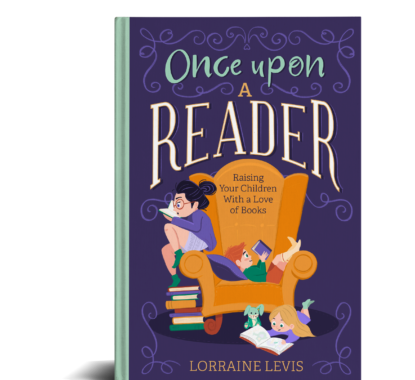 Fostering a love of reading is one of the most important things we can do for our children and finding the right books is key!
Ex-bookseller and children's book expert Lorraine Levis teaches us how to find the books that speak to young people of all ages and enable them to understand the world around them.
The author has a simple message: reading is for everyone! Featuring a comprehensive list of book recommendations to help broach new and challenging experiences with children of different ages and abilities, Levis covers a breadth of topics including bereavement and mental health.
All of these great books are available to order on our website here. Happy reading!