Ryan Tubridy, always a huge advocate for reading and someone with a great love of Irish books, gave high praise to Mythical Irish Beasts on the Late Late Toy Show on Friday night. He presented the book in the ever-popular Book Corner of the show, and said "All the way from beautiful Connemara … the reason I love this so much is because it is so very Irish but it also taught me so much about creatures I had not been familiar with and the illustrations are absolutely gorgeous, and we are big fans of buying Irish and supporting our own."
Mark Joyce's Mythical Irish Beasts is a wonderful gift for the folklore lover in your life, young or old. Packed with fantastical illustrations, the book is filled with many Irish monsters and stories that are regional and perhaps on the verge of extinction. Going beyond the realms of just the most famous folklore, such as leprechauns, Joyce dives into local myths and legends, uncovering fantastic creatures and enchanted beasts from all over the country.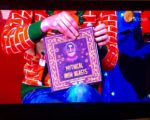 Joyce believes that in Ireland "we are still close to this realm of 'other'. It is in our national DNA. Fairy rings are left intact and hawthorn trees are left uncut for fear of fairy retribution. This other realm is also still in our native place-names, like Bru Si or 'fairyhouse' in Co. Meath, Abberanville or 'great beast' in Co. Galway, and Pollpeasty or 'pool of the monstrous reptile' in Wexford."
Mythical Irish Beasts captures this Ireland of mystery and magic and brings it to life with unique, contemporary illustrations to spark the imagination. However, as he says himself, "no image can compete with a dark room and a malevolent scratching at the door"!
If you want to get your hands on a copy of Mythical Irish Beasts you can click here.