This holiday season we're taking a look at our favourite books which make fantastic gifts for friends and family and of course treats for yourself!
Every day for the first twelve days of December we're doing a blog on each on the 12 best books in our collection, the most-loved titles by all our staff for 12 Days of Blogmass!
Here's why you should pick them up.
Day 1: Best Love Poems from the West of Ireland
When Photography, Poetry and the West of Ireland meet
The number of literary genres present in the world is endless, ranging from fiction to mythology through fantasy and poetry. The latter, from my perspective, is the only genre that someway can combine every emotion that I human can feel just from reading. As Leonard Cohen once put it "Poetry is just the evidence of life. If your life is burning well, poetry is just the ash."
'What if one book could combine the three things that, in every field, are said to best represent your reality?' This was the way I was first introduced to Best Loved Poems which manages, in a fascinating way, to combine poetry, photography and a place very dear to me, the west of Ireland.
The aim of the book is very well-explained by the author just in the first pages where he says:
"I know only too well from Favourite Poems We Learned in School that poetry is a great vehicle of

memory. Lines lodged in the heart can conjure up better than any other medium, I think, scenes

from our childhood. And if we were lucky enough to be born in that magical place we will

cherish those lines and, remembering them, we will recall, too, the people who lived there and the lives they lived. […] The photographs, like the poems and the place itself, have haunting quality about them."
Today, to give you an idea of how this magical combination look like, I've chosen the two poems that most of all have managed to best represent the three expressions of reality that I mentioned previously, in the best possible way.
The first poem is entitled She moved through the Fair, by Pádraic Colum. A well-known Irish song, what strikes you the most about this poem is the way the poet managed to convey the emotions that we all would have felt, no matter the sex, in front of a love denied. To be more precise, the complexity of this work is manifest in its rigid structure: the narrated story begins and ends with the same lines:
 "It will not be long, love, Till our wedding day."
The sensitivity and uniqueness of the intent of the author of Best Loved Poems in this case, is clearly expressed in his ability to involve the reader even more in this feeling of loneliness through the insertion of the image below: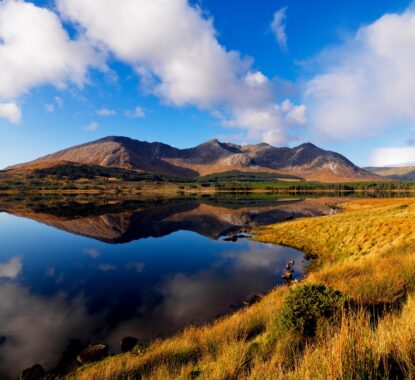 She Moved Through the Fair
My young love said to me,
"My mother won't mind
And my father won't slight you
For your lack of kind."
And she stepped away from me
And this she did say:
"It will not be long, love,
Till our wedding day."
As she stepped away from me
And she moved through the fair
And fondly I watched her
Move here and move there
And then she turned homeward
With one star awake
Like the swan in the evening
Moves over the lake.
The people were saying,
No two e'er were wed
But one had a sorrow
That never was said
And I smiled as she passed
With her goods and her gear,
And that was the last
That I saw of my dear.
Last night she came to me,
My dead love came in
So softly she came
That her feet made no din
As she laid her hand on me
And this she did say
"It will not be long, love,
Till our wedding day."
With regard for the second and final one, entitled Nature's Child, what I can immediately point out that this poem has been capable of something outstanding: it made me feel a real connection with Mother Nature. For my perspective, this can be defined as one of the aims that this poem has: to make you identify in those who, during life, is stripped of everything to find contact with the only soul always present, that of nature, alive in each of us.
Finally, the picture taken Liam Lyons, again, has succeeded in representing perfectly what in our mind would be the only imagination of a feeling of alienation and gratitude.

Nature's Child, F. M. Synge
Still south I went, and west, and south again,
Through Wicklow from the morning to the night,
And far from cities and the sights of men,
Lived with the sunshine and the moon's delight.
I knew the stars, the flowers and the birds,
The grey and wintry sides of many glens,
And did but half remember human words,
In converse with the mountains, moors and fens.
If by any chance you got interested in these powerful combinations and are willing to know more about it, there's no better way to do that than to read the whole book.
Best Loved Poems: From the West of Ireland edited by Thomas F. Walsh with photography by Liam Lyons is available to purchase here.