Persistence
It is said that courage is not the absence of fear, but rather the judgement that something else is more important than fear. If we turn away from a challenge once, it is so much easier to do the same again the next time, and the next. Showing some courage in less serious difficulties is often the best training for the major crises. Courage is like a muscle. It is strengthened with use.
Once upon a time there was a young prince who was meandering around distant lands looking for adventure. He came to a town which was near a pass into a fertile valley. The prince was taken aback by the poverty in the town and inquired why the people did not move into the valley. The locals told him that they couldn't because a dragon was guarding the pass and that they were all afraid of him. As princes so often do in stories like this, the prince decided that he was going to solve the problem irrespective of his own personal safety.
The next day was cold, wet and windy. He woke long before dawn, dragged from sleep by rain pounding on the roof. The atmosphere outside was menacing, and a steadily strengthening wind did nothing to help. It made the trees roar, and it whistled through the gravestones, an agitated, unsettling sound that made the robin on his windowsill more jittery.
With a brave smile but with a knot in his stomach, the prince made his way to the pass. With his sword waving he reached his destination. To his great surprise all he could see was a tiny little dragon, who was only the size of his boot.
"Where's your father?" asked the prince. The dragon said, "I live here on my own."
"But how can a tiny little beast like you so terrify the local people?"
"Because of my name."
"What's your name?"
"What Might Happen?"
From a distance, what might happen is a terrifying prospect but by having the courage to confront the dragons we learn that we may be better able to cope with them than we could ever have imagined.
"I hope your beautiful minds will take inspiration and comfort from these beautiful thoughts." – Miriam O'Callaghan, TV personality
"A book full of heart-warming pieces that are guaranteed to lift the spirits." – Tony Ward, Irish ruby legend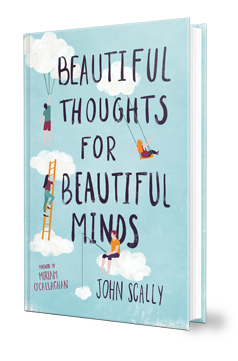 All royalties from this book will go to Epilepsy Ireland