Gaeilge: A Radical Revolution was launched on Friday afternoon, 15th of March, with Conradh na Gaeilge in An Siopa Leabhar as part of Seachtain na Gaeilge.
The room was packed full of people to listen as the panel discussed the current state of the Irish language, current efforts to revive it, and what more needs to be done.
Author of Gaeilge: A Radical Revolution, Caoimhín De Barra, said that one of the important things to consider when discussing the Irish revival is: "What do we mean when we say we want to revive Irish – what is the end goal? What do we hope to achieve?" Without a goal, how is a plan to be crafted to achieve that goal?
When he was asked why the book is written in English instead of Irish and who the target audience is, Caoimhín said: "I suppose I'm aiming for that 70% of Irish people who want to be able to speak Irish, but can't."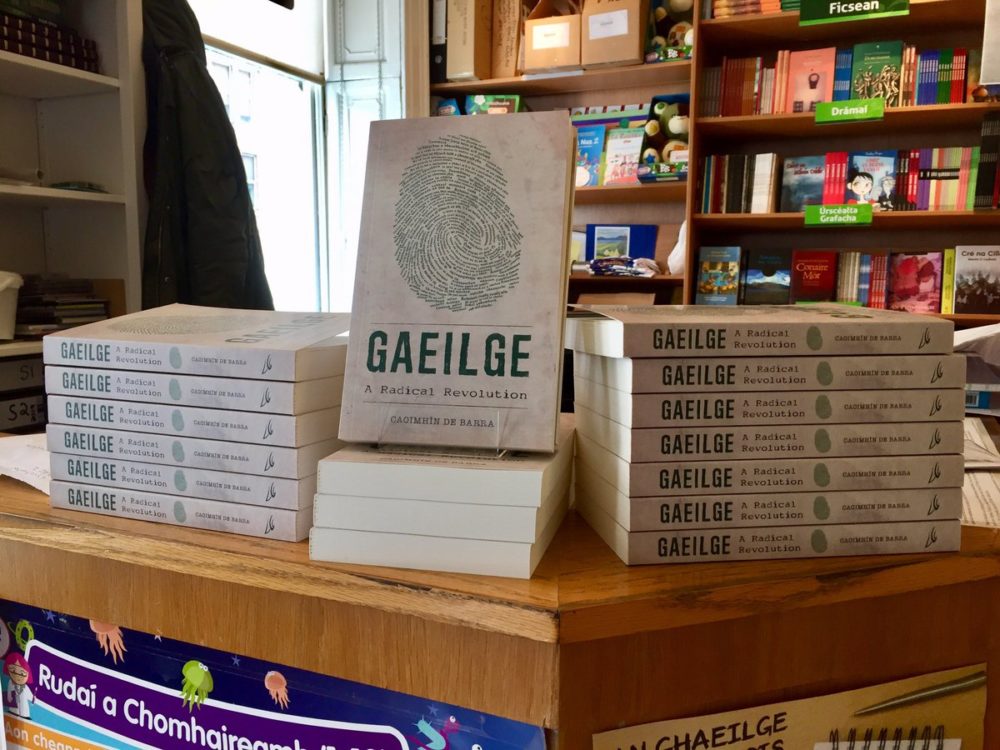 Journalist, presenter and broadcaster, Bláthnaid Ní Chofaigh, chaired the panel discussion. She described the need to "discuss the Irish language in a different way. Move away from discussing it as just an academic subject, because for those of us who speak Irish on a daily basis it's more than an academic subject, it's our life, it's our identity, it's all those things. Now because of this book, I realise I have a condition, called post-traumatic stress disorder, because of being colonised, that's why I am the way I am!"
Caoimhín, who lives in America and is raising his children there through Irish, has a unique perspective on the language. Bláthnaid Ní Chofaigh spoke of the benefits of his rare vantage: "Sometimes it takes an author living on the other side of the world looking in on us, giving us maybe a better sense of who we are and what we are."
On the panel, Harry McGee, political correspondent with The Irish Times, said that in order to keep the language alive people need a motive and "we need to make the language as available as possible in people's lives".
He went on to say: "When I look the Irish language, I look at the Gaeltacht and I sometimes despair. But when I look at what's happening in the cities and the new places, with the growth of the Gaelscoil movement, I can see a modicum of hope in relation to the future of the language. It mightn't be the pure, ancient language that we had on the Aran Islands, it'd be more urban, slightly jagged Irish, without that purity of pronunciation, and that purity of expression, but that happens to every language. If you look at English now, as she is spoken, it is hard to compare it to the language that was spoken 300, 400 years ago. But every language is a living thing."
Áine Ní Bhreisleáin, RTÉ Radió na Gaeltachta, saw a huge need for a plan of action when it comes to the Irish language "I don't want, in another 50 years, people going 'Do Not Resuscitate' and we're still saying we're here, we're breathing, we're living, it's still a language, we're here speaking it."
If you want to read more about the position of Irish in Ireland, the myths that have built up around it, and a radical plan to restore it as the first language of the people of Ireland you can buy your own copy of Gaeilge: A Radical Revolution by clicking here.