We live in troubled times. Watching the news on television or reading the newspapers is often a depressing experience. Stories of hope and joy are often elusive.
Beautiful Thoughts for Beautiful Minds, by John Scally, is an uplifting collection of pieces that are sure to leave a positive impact in the minds of readers.
In our increasingly busy lives this is a book which will cause us to pause and ponder. It features a unique mix of inspirational fables and parables; heart-warming original stories and true-life stories which are guaranteed to lift spirits. RTE broadcaster Miriam O'Callaghan writes the foreword, saying 'I hope your beautiful minds will take inspiration and comfort from these beautiful thoughts'.
John Scally succeeds in creating a book that gives you a sense of comfort and ease as you read through it.
The author uses his own personal experiences growing up in Roscommon to illustrate how any small moment in life can be turned into something that can bring you comfort and peace.
Throughout the book, Scally helps us all to see the joy in life through a variety of sections aimed at lifting our spirits. Besides his own personal reflections, Scally adds a collection of tales to make you laugh, pieces showing the lighthearted, fun side of religion and personal interviews/thoughts of notable people like Mother Teresa, Nelson Mandela and Desmond Tu-tu.
 Beautiful Thoughts for Beautiful Minds also includes a section on the importance of sport in our lives. Irish Rugby legend Tony Ward says that Scally's work is 'A book full of heart-warming pieces that are guaranteed to lift the spirits'.
Scally also stresses the importance of getting young readers involved in books, and adds children's stories which you will find towards the end of the book meant for younger readers or anyone young at heart. He says: "Often times we underestimate children. They, more than any other group have beautiful minds untainted by cynicism or disillusionment."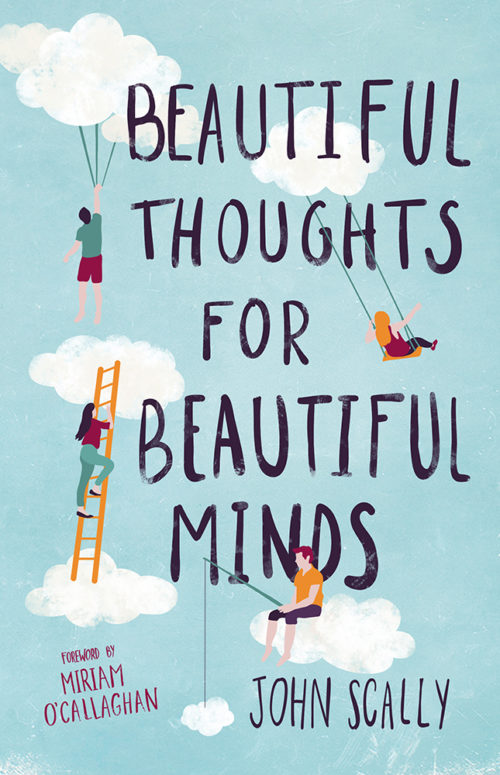 In times where people may be lacking positivity. Beautiful Thoughts for Beautiful Minds shines bright as a source of happiness. With royalties going to Epilepsy Ireland, this book is sure to fill you with joy as you support the organisation and dive into the many comforting sections that John Scally has provided.
This book is great for anyone looking for more positivity in life when there is not much to be found, anyone looking for a collection of feel-good stories, or simply anyone wishing for a book to make them smile.
Filled with hope and happiness, wisdom and wit, inspiration and insight, this book offers hints at the answers to life's crucial questions. It will nourish the most wearied soul and offer opportunities for self-reflection and moments of healing as well as giving new perspectives on some of our certainties and conflicts.
It is a first step back to the joy of living and the is ideal companion to indulge yourself in whenever you need a lift or a smile.
This is the ultimate feel-good book and the perfect gift for the young at heart.
February 2019
Beautiful Thoughts for Beautiful Minds is available here.