Mythical Irish Beasts, Mark Joyce's new book filled with Irish folklore and mysterious monsters, has met with a very warm reception, flying out of the warehouse this past week and into bookshops following Ryan Tubridy's brilliant review on the Late Late Toy Show: "All the way from beautiful Connemara … the reason I love this so much is because it is so very Irish but it also taught me so much about creatures I had not been familiar with and the illustrations are absolutely gorgeous, and we are big fans of buying Irish and supporting our own."
Speaking of supporting our own, the unprecedented boost in demand means that the book is out of stock and not currently available through the Currach website, and those looking to get their claws on this treasury of rare Irish monsters will have to go hunting in their local bookshops. We know that the Banshee and the Puca are still lurking in bookshops around Ireland, so seek them out! It is a great opportunity not only to buy an Irish book but to support your local high street.
Mark Joyce, a Connemara native and owner of Joyce's Craft Shop in Recess Galway, has filled Mythical Irish Beasts with unique contemporary illustrations of fantastical creatures from every corner of Ireland, including many local stories that you may not have heard of before. The beautiful presentation has a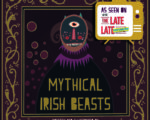 dded to the great success of this book, with the wonderful images drawing everyone in.
But fear not, while we won't get new stock in time for Christmas, a reprint will arrive in January to ensure that the stories of these magical beasts can creep out into the world once more!
A huge thank you to everyone who has already bought the book – you have helped make this book about Ireland's folkloric heritage a huge success.