June's Bank Holiday Sunday saw a wealth of attendees to the launch of our newest book, Achill: The Island. The launch was held at The Western Light Art Gallery on Achill Island, which was packed to capacity with attendees eager to meet the book's authors, poet John F. Deane and artist John Behan RHA. The atmosphere was incredibly positive and cheerful, as the crowd packed the gallery and spilled outside into the June sunshine.
Local doctor and friend of the authors, Dr. Edward King, introduced the book, which is full of beautiful poems by Deane inspired by Achill Island and stunning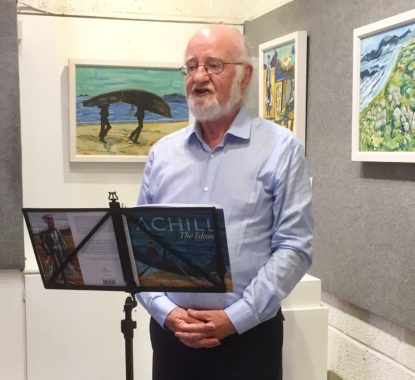 paintings by Behan inspired by the poems.
Both authors spoke at the launch, with Deane reading a selection of poems from the book describing the unique landscape and community life in Achill. The gallery co-owners Sean and Margaret Cannon were incredibly hospitable, and chose to display some of Behan's paintings from the book, many of which were sold that day. Both authors also signed books for the event's attendees, and despite the huge stock of books we took with us to the event, every copy had sold out by the end of the night.
We are grateful to everyone who came to this event and sacrificed a bit of their sunny bank holiday to learn more about this beautiful book and its talented authors. As John Behan said, "Long may people come to Achill, enjoy Achill and find its creative spirit which is here in abundance."
To buy your own copy of the book visit our catalogue