by Saverio Mommo
As tomorrow is All Souls' Day, it is a time of reflection and remembrance for those loves ones who have passed on. Yet, during the grieving process young children are often forgotten and helping them navigate their loss can be difficult for parents. Noelle Rock, a chartered psychologist aims to help parents guide their little ones through this tough period using the gentle story of a robin in her book, A Robin's Tale.
For many years robins have been viewed as a symbol of visits from our deceased loved ones. The Robin also symbolises new beginnings and life, and is also looked upon by many as a sign of fortune and good luck.
The first thought that I had when I finished reading A Robin's Tale was the following quote from Hamlet, Act 1, Scene II, Line 73, William Shakespeare:
"All that lives must die,

Passing through nature to eternity."
You will probably be surprised to hear these important lines mentioned in a children's book review, but you can be sure that you are in the right place. To be honest, this should not surprise you, but don't panic, it is normal: when you grow up, often you will lose the magic that only children's hearts have.
A Robin's Tale might look like a children's book, but it's actually a lot more. The author, in fact, deals with a theme that affects all of us, without distinction of age: death. There is not a man who has not thought about it during their lifetime, just as there is no human being on earth who for some reason has not, at least once, been afraid of it.
Noelle Rock, author of this book, finds just the perfect words to describe so delicate an issue to our children. The story that the book presents in fact is not only a story of death but also and above all a story of love. From my perspective this is the best way to present death to kids because it mixes what someone would call fantasy with the emotions that we all, as human beings, feel under these circumstances.
In addition, everything is accompanied by the original illustrations of Sasha Sakhnevich, who really manages to turn into image what only the pure mind of a would be able to imagine in front of a story like the one told by chartered psychologist Noelle Rock.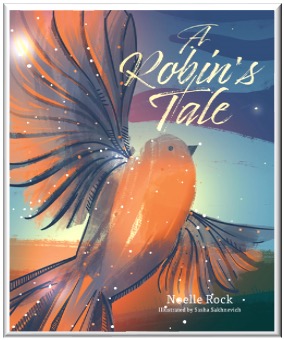 A robin's tale, from my point of view, is nothing more than the most suitable tool to introduce to an issue that sooner or later we must all deal with.
Always keeping in mind George Orwell's words, "Happiness can exist only in acceptance", I strongly invite you to take this delicate step.
A Robin's Tale is available to purchase here.