A Farewell to Poetry: selected Poems and Translations by Gabriel Fitzmaurice (Currach Press, €19.99) reviewed by Seamus Cashman.
The title of this collection invites echoes of its author's friend and fellow poet Michael Hartnett's Farewell to English — and who knows, perhaps Gabriel's mind is quietly nurturing a similar outcome?  Though it is a challenging title, it does give the poet freedom to issue this 'selected poems' equivalent, and to then live with whatever the muse will insist upon in future years.
When it comes to poets at their trade, every word becomes a micro-verse of tension, wrapt in politics, social history, language origins, contemporary and previous usages and more.
So when the word 'Farewell' feeds the title, it merits attention. Here is the ambiguity of 'me' and 'you', or perhaps more accurately of 'I' and 'Thou'. It holds speaker and listener in the moment; offers goodwill into present and future time; carries its perfumed sense of separation or departure tinged with a sadness otherwise un-signalled; it blossoms between the 'now' and 'forever'.
There is also the hint that separation will be long-term. In his poetry too, Gabriel uses language, not in 'Bastilles of the word,' to use a Thomas Paine phrase, but as landscapes of both personal and communal ground:
From 'Out of the Abyss':
The years I wasted lost in hurt and doubt!
I trusted none, to none I gave my all,
Dwelled upon myself, with flesh and stout
I drugged my demons and ignored Your call.
From the Irish of Michael Hartnett (1941-1999) 'The Purge':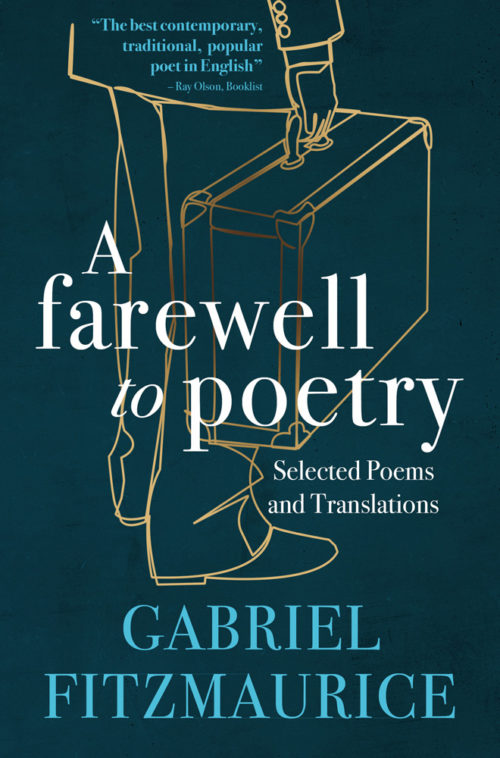 This is Ireland, and I'm myself.
I preach the gospel of non-assent,
Love and art is the work I want
As empty as a dipper's nest,
Whiter than a goose's breast –
The poet's road with no wayside stop upon it,
A road of insignificant herbs
Welling quietly from every hedge.
As Fintan O'Toole (Irish Times) says on the back cover, "Fitzmaurice is one of the last of the tribal bards, a poet in and of his own kind" – a significant tribute; and he adds: "This is the golden collection and a true testimony of his mastery of the craft."
And I would add, that his translations from the Irish, well represented here, are really exquisite English language versions (his anthology in 1991 co-edited with Declan Kiberd, An CrannfaoiBhláth is a major work).
So Farewell to Poetry distills 35 years of collections, anthologies, translations from Irish language poetry, plus books of poems for children garnishing his adult worklike necklaces of gems.
Here is a writer who, before the arrival of rap and stand-up 'spoken-word' gigs, brought entertainment, joy and community to his many poetry readers.
The Fitzmaurice children's poems are superb, and again, never short of a telling title for poem or book, e.g. do teachers go to the toilet; and Teanan Muinteóirí go dTígh an Asail – and are imbued with a transparent ethos, social sense and respect for the young listeners and readers.  Indeed all his poetry carries a social integrity, an ego finely tuned to the importance of community, of environment, be it for a bluebottle or the possibilities in a fireplace
Whether or not you already have a Fitzmaurice collection on your shelves, Farewell to Poetry never disappoints, is accessible, energetic, true and pleasure-giving, and is a 'must have' of contemporary Irish poetry.
To purchase a copy of this book, click here.